Lapis Inlaid Calligraphy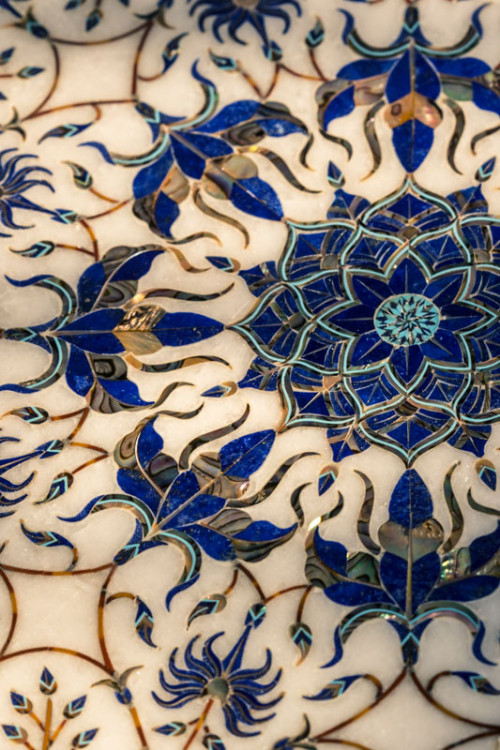 Lapis lazuli, the legendary and beautiful dark blue stone, sourced from the Badakhshan Mines of northern Afghanistan, has been carved and inlaid into wonderful works of art for thousands of years. Some of the earliest jewellery known to man was carved out of lapis lazuli. The rulers of ancient Egypt, Mesopotamia and Persia collected and treasured this fabulous stone.
Lapis Inlaid Calligraphy – Saray Design
Today, Saray Design, lapis inlaid calligraphy specialists based in New Delhi and London, under the direction of Mitchell Abdul Karim Crites, works with lapis lazuli in a variety of innovative and creative ways. Large blocks of lapis are carved into bowls and decorative works of art. The scrolling flowers found on the 1,054 marble columns of the Sheikh Zayed bin sultan Grand Mosque in Abu Dhabi were delicately inlaid with fine lapis lazuli by Saray craftsmen. The columns are a testimony to the fact that the great and timeless traditions of Islamic art and architecture are alive and well and can still be found in the best of contemporary mosque architecture.
Current Lapis Inlaid Calligraphy Projects
Saray Design is currently working on a major lapis inlaid calligraphy project for the Al-Shamiya Extension of the Masjid Al-Haram in Mecca Sharif. More than 700 master inlay artisans are inlaying Qur'anic verses in raised lapis lazuli letters ornamented with gold leaf on the sides for the mosque interior. The calligraphy in Arabic script has been commissioned from a team of Turkish calligraphers, some of the finest calligraphers working in the world today. Monumental white marble panels are also being carved in deep relief for the exterior entrances of this most sacred of mosques. The total inlaid and carved panels exceeds 2,500 square metres and will take three years to complete.